Purchasing a European, luxury vehicle is an expensive investment. Take the worry and headache out of purchasing a used vehicle that you know nothing about with our comprehensive pre-purchase inspection. Our skilled technicians have extensive knowledge of all of the brands we service. Not only do we have the latest diagnostic tools, also, our experienced mechanics know of problems specific to the year and model of the vehicle you are considering to purchase. We inspect the vehicle from bumper to bumper and roof to bottom. Once we have compiled the data we will provide you with a report detailing all problems identified. The report also includes an estimate for the repairs identified. You can use our report to assess the suitability of the vehicle you are considering and to negotiate a fair price with the seller. View below to see why you should choose Euro Imports of Memphis to inspect the vehicle you would like to purchase. Call us at (901) 324-9500 or schedule your appointment online today!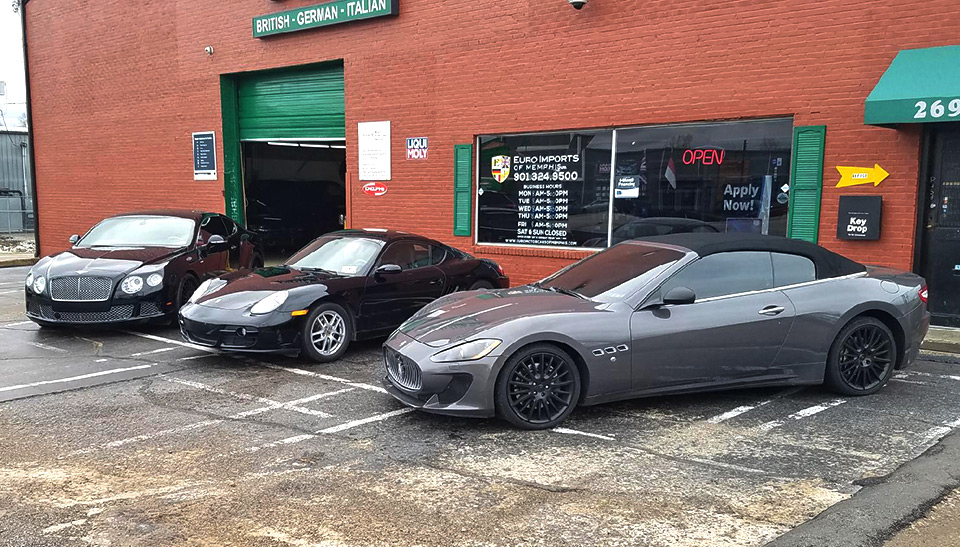 We service European automobiles from 2007 to present
Pre-Purchase Inspections Includes:
Powertrain & drivetrain inspection – engine: oil level/condition, transmission: fluid level/condition, fluid leaks, drive belt condition, filters, fuel lines/connections, mounts, drive shafts, differentials, exhausts, axles, and wheels
Complete diagnostics of all computer systems
Dynamic suspension inspection – steering fluid level/condition, pumps, hoses, gear box, wheel bearings, air springs, tires.
Electrical system inspection – battery, alternator, starter, wipers, rear defroster, sunroof/convertible tops, instrument lights, horn, warning lights and other interior lights.
48-50 point inspection (number of points depends on vehicle)
– Exterior – body, lights and mirrors
– Interior – locks, seat belts, window operation, tilt wheel, cigarette lighter and clocks
Frame inspection
Brake system – brake fluid/condition, wheel cylinders, calipers, master cylinder, brake lines, parking brake, brake pads and shoes, brake rotors and drums
Cooling system – coolant level and condition, cooling fan operation, radiator, water pump and coolant hoses
Air conditioning and heating system performance
Road test
Report detailing all points of the inspections and cost of suggested repairs and parts
You can call us at (901) 324-9500 or use our convenient appointments form to schedule an appointment to bring the vehicle in.
Generally, we will need you to leave the car for around 4 hours in order to guarantee completion on the same day. Thank you for choosing Euro Imports of Memphis.
The Euro Imports of Memphis Team
If you are looking for professional factory service and expertise, without the factory price, from people who really care about your European automobile, Euro Imports of Memphis is the place for you. Our expertise and customer service is what brings European import drivers to us from all over the Mid-South and beyond. We service European vehicles from 2007 to present and some 2005 automobiles. Our repair service and parts come with a 12 month/12,000 miles warranty*. If you're thinking about buying a vehicle don't forget our Pre-Purchase Inspections.  We also sell parts and sell & install tires to fulfill all your European automotive needs. Rest assured that your automobile is in good hands and our outstanding service staff is here to answer any questions and address all concerns. Call 901-324-9500 or schedule your appointment online today!
Schedule Your Service Online

Office Hours
Mon-Fri – 7:30am - 5pm
1st & 3rd Sat 9am - 1pm
901-324-9500
901-881-1570 FAX